OUR UNIQUE
MEMBERSHIP

SCHEME
Our unique Membership scheme enables insurers to transfer their risk to us, increasing their ability to withstand the financial burden of a large or unusual terrorist event.
Given the financial limits of the commercial market and the complex nature of terrorism risk, public sector intervention by way of a Government-backed scheme continues to be critical to the provision of accessible commercial terrorism insurance in Great Britain and underpins the availability of viable commercial terrorism insurance in the UK.
Our unique Membership scheme enables insurers to transfer their risk to us, increasing their ability to withstand the financial burden of a large or unusual terrorist event.
Any insurer authorised to insure commercial property in Great Britain is eligible to apply for Membership, regardless of their domicile. Most insurers operating in the UK commercial property market are Members.
Solvency
Pool Re Members are guaranteed solvency for any legitimate claims arising from a certified act of terrorism, and are not required to hold the vast capital reserves that Solvency II regulation would require in Pool Re's absence. This is particularly the case for CBRN cover.
Availability
Pool Re cover is accessible through any of the scheme's Members, who together constitute the vast majority of property insurers in the UK market.
Guaranteed Acceptance
Where a Member Insurer provides property insurance in Great Britain, they must offer terrorism cover upon request. Cover and terms are not restricted by geographic area or risk profile.
Capacity
Pool Re is backed by an uncapped HMT guarantee, underpinning £2.2 trillion of UK assets. After even a series of catastrophic events, Members can be certain of immediate liquidity, and continued reinsurance cover at an affordable rate, something that would not otherwise be available.
Claims Transparency
Claims are handled by the underlying property insurer within a pre-defined protocol. There is an agreed process for the certification of an event as one of terrorism, with a binding tribunal process to resolve disputes.
Accessiblity
We enable the UK insurance market to offer terrorism cover to any commercial property in Great Britain that requires it. Central to the proposition is the integration of Pool Re's cover with the underlying property policy which ensures that there is no gap in the cover provided.
Breadth of Cover
Terrorism damage caused by CBRN means is included as standard. We also cover acts of terrorism where damage is caused by a remote digital trigger, and in February 2019 the scheme was widened to include non-damage business interruption, available to those Members who sign up to Class B Membership.
Research and Development
We provide Members with exclusive access to our in-house threat and actuarial expertise. Additionally, our investment into innovation opportunities associated with terrorism risk such as CBRN provides economies of scale to our Members enabling them focus more on other areas of the business.
Access to Support
We leverage our unique partnerships with public agencies, academia, and international pools to provide Members and individual businesses or organisations access to the necessary tools and information needed to understand, manage and mitigate against terrorism risk, accessed via a digital platform, our Solutions Centre.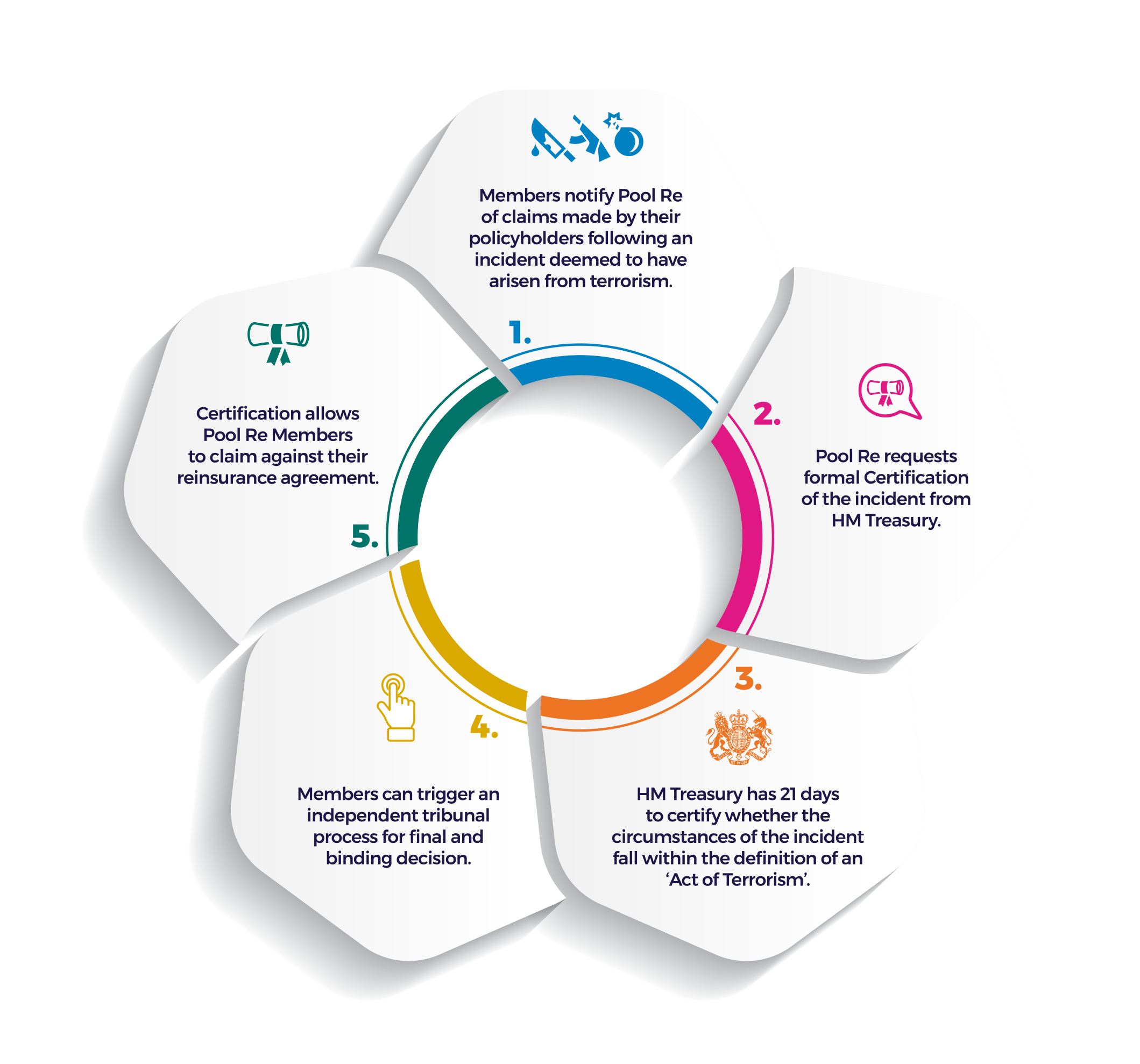 Our funds which currently stand in excess of £6.5 billion, have allowed us to pay claims in excess of £1.25 billion (when adjusted for inflation) in relation to 17 terrorist events since our foundation without ever needing to call upon the unlimited HM Treasury guarantee facility which underpins our Scheme.
The Government guarantee can be understood as a credit facility, that is not capped. Once Pool Re exhausts all the scheme assets, HMT will provide funds to enable all reinsurance claims to be met in full.
We are then required to repay from future premium income any funds loaned by the credit facility. As such, in the long term, the arrangement runs at nil cost to the taxpayer, who has in fact benefited from the arrangement to date insofar as Pool Re pays a premium to HM Treasury for is guarantee, and taxes, both of which can be used to invest in public services.
In the event of legitimate claims from a loss resulting from an act of terrorism which is certified by HM Treasury, each Member must first pay losses up to a pre-determined threshold (retention). Only when losses exceed that threshold can the Member claim from our scheme. It is only if these reserves, and the company's commercial reinsurance, are exhausted that we would require the government facility – a scenario yet to occur in our 29 years of operation.
A
Absolut Insurance Limited
Acadia International Insurance DAC
Accelerant Insurance Europe SA/NV
Accelerant Insurance Limited
AEA Insurance Limited
Ageas Insurance Limited
AIG Europe SA
Aioi Nissay Dowa Insurance Company of Europe Limited
Allianz Claims Test Member
Allianz Global Corporate & Specialty SE
Allianz Insurance PLC
Allianz PLC
Allied World Assurance Company (Europe) DAC
Allied World Managing Agency Limited for Lloyd's Syndicate 2232
American International Group UK Limited
Aspen Insurance UK Limited
Aspen Managing Agency Limited for Lloyd's Syndicate 4711
Assicurazioni Generali SpA
Asta Managing Agency for Syndicate 2786
Aviva Insurance Ireland DAC
Aviva Insurance Limited
Avon Insurance PLC
AXA General Insurance Limited
AXA Insurance UK PLC
AXA XL Insurance Company UK Limited (AXICL UK)
AXA XL Underwriting Agencies Limited (AXUAL)
B
Barclays Insurance Guernsey PCC Limited
Barloworld Insurance Limited
BBA Aviation Insurance Limited
Beazley Furlonge Limited for Lloyd's Syndicate 2623
Beazley Furlonge Limited for Lloyd's Syndicate 623
Belvoir Insurance Company Limited
Berkshire Hathaway European Insurance DAC
Berkshire Hathaway International Insurance Limited
C
Centrica Insurance Company Limited
China Taiping Insurance (UK)
CHUBB European Group SE
Chubb Underwriting Agencies for Lloyd's Syndicate 2488
CNA Insurance Company Limited
Cornish Mutual Assurance Company Limited
Covea Insurance plc
D
E
Ecclesiastical Insurance Office PLC
Elecrent Insurance Limited
Endurance at Lloyd's Limited for Lloyd's Syndicate 5151
Endurance Worldwide Insurance Limited
ERGO Versicherung Aktiengesellschaft
Everest Insurance (Ireland) DAC
F
F M Insurance Company Limited
Fairmead Insurance Limited
Faraday Underwriting Limited on behalf of Lloyds Syndicate 435
Friars Street Insurance Limited
G
G4S Insurance (Guernsey) Limited
Gamond Insurance Company Limited
GAN Assurances IARD
Generali France
Generali Italia SpA
Great American International (UK) Ltd
Great Lakes Insurance SE
Gresham Insurance Company Limited
Groupama SA
H
Hardy (Underwriting Agencies) Limited for Lloyd's Syndicate 382
HCC International Insurance Company PLC
HCC Underwriting Agency Limited for Lloyd's Syndicate 4141
HDI Global SE
HDI Global Specialty SE
Helvetia Swiss Insurance Company in Liechtenstein Ltd
Hiscox Insurance Company Limited
Hiscox Syndicates Limited for Lloyd's Syndicate 33
Hiscox Syndicates Limited for Lloyd's Syndicate 3624
Houston Casualty Company
HSB Engineering Insurance Limited
I
If P&C Insurance Limited (publ)
Igloo Insurance PCC Limited
Inreska Limited
Insurance Corporation of the Channel Islands Limited
J
JCB Insurance Company Limited
K
Kingfisher Insurance DAC
L
Legal & General Assurance Society Limited
LHR Insurance Services Limited
Liberty Managing Agency Limited for Lloyd's Syndicate 4472
Liberty Mutual Insurance SE
Lochside Insurance Limited
London Transport Insurance (Guernsey) Limited
Lothbury Insurance Company Limited
M
Mapfre Espana Compania de Seguros y Reaseguros S.A.
Methodist Insurance PLC
Mitsui Sumitomo Insurance Company (Europe) Limited
Morgan Stanley International Insurance Limited
MS Amlin Insurance Societas Europaea
MS Amlin Underwriting Limited for Lloyd's Syndicate 2001
MSIG Insurance Europe AG
N
Network Rail Insurance Limited
NPA Insurance Limited
O
Your content goes here. Edit or remove this text inline or in the module Content settings. You can also style every aspect of this content in the module Design settings and even apply custom CSS to this text in the module Advanced settings.
P
Park Assurance Company
PartnerRe Ireland Insurance Designated Activity Company
Pearl Street Insurance Company, Inc
Petrus Insurance Company Limited
PostCap Guernsey Limited
Probitas Managing Agency Limited for Lloyd's Syndicate 1492
Protector Insurance (Protector Forsikring ASA)
Q
QBE Europe SA/NV
QBE UK Limited
QBE Underwriting Limited for Lloyd's Syndicate 1886
QBE Underwriting Limited for Lloyds Syndicate 5555
R
River Re Limited
Royal & SunAlliance Insurance PLC
RSA Insurance Ireland DAC
S
S.A. Meacock and Company Limited for Lloyd's Syndicate 727
Samsung Fire & Marine Insurance Company of Europe Limited
SCOR UK Company Limited
SI Insurance Europe SA
SSE Insurance Limited
St James's Insurance Limited
Standard Chartered Assurance Limited
Starr Insurance & Reinsurance Limited
Starr International (Europe) Limited
Starr Managing Agents Limited for Lloyd's Syndicate 1919
Starstone Insurance SE
Starstone Underwriting Limited for Lloyd's Syndicate 1301
Surestone Insurance DAC
Swiss Re Europe S.A.
Swiss Re International SE
T
The Baptist Insurance Company PLC
The National Farmers Union Mutual Insurance Society Limited
The New India Assurance Company Limited
The Salvation Army General Insurance Corporation Limited
Three Rivers Insurance Company Limited
Tokio Marine Europe S.A.
Tokio Marine Kiln Insurance Limited
Tokio Marine Kiln Syndicates Limited for Lloyd's Syndicate 1880
Tokio Marine Kiln Syndicates Limited for Lloyd's Syndicate 510
Tower Insurance Company Limited
TransRe London Limited
Travelers Insurance Company Limited
Travelers Insurance DAC
Travelers Syndicate Management Limited for Lloyd's Syndicate 5000
Tryon Assurance Company Limited
U
UK Insurance Limited
UK Power Networks Insurance Limited
UNIQA Osterreich Versicherungen AG
UPS International Insurance DAC
V
Vatryggingafelag Islands hf
W
W R Berkley Syndicate Management Limited for Lloyd's Syndicate 1967
W. R. Berkley Europe AG
Wagram Insurance Company Limited
White Rock Insurance (Gibraltar) PCC Limited
White Rock Insurance Company PCC Limited
X
XL Insurance Company SE
Y